Pieces of the Cloud (POTC) is a black-owned women-led homeware brand, led by artistry. We specialise in luxury handmade home fragrances. Our candles are handcrafted in Hamburg, carefully formulated with quality vegan friendly ingredients sourced in the European region. Our ingredients are the highest quality; each candle is precisely made with high-grade fragrance and essential oils and a non GMO sustainable coconut wax and rapeseed blend free from soy or animal derivatives. Our rapeseed is not associated with deforestation of any sort and our coconut comes from sustainable farming with farmers invested in sustainable techniques. We use natural cotton wicks made in Germany.
The notion of one-of-a-kind is part of our small batch ethos, so we work on a small, fresh scale. Luxury to us means elegant and pared-down with a sense of eclecticism. Thus, our fragrances are inspired by life's pleasures – nature, fresh herbs, ripe fruit, distinct places, the intimacy of home. As you light your POTC candle, your space is fragranced with a unique story.
When you select POTC candles, you are given an intense fragrance with an incredibly powerful, long-lasting scent throw. For this reason, POTC candles are perfect for scent training* your space.
*When lit regularly, our candles infuse your space with an intense aroma that lasts over time.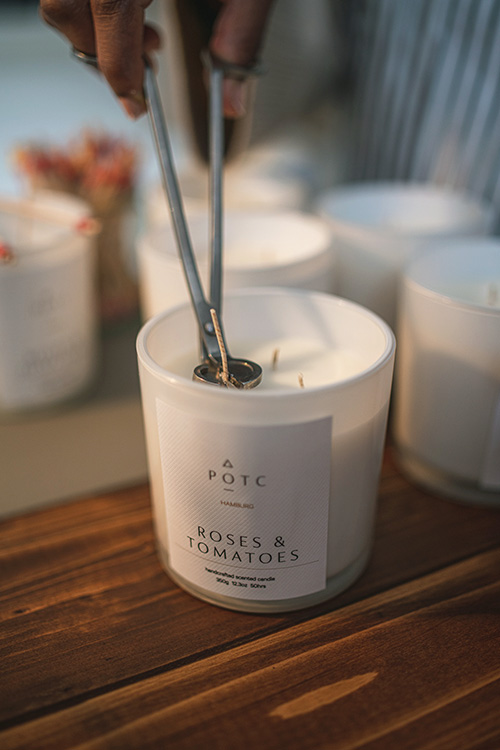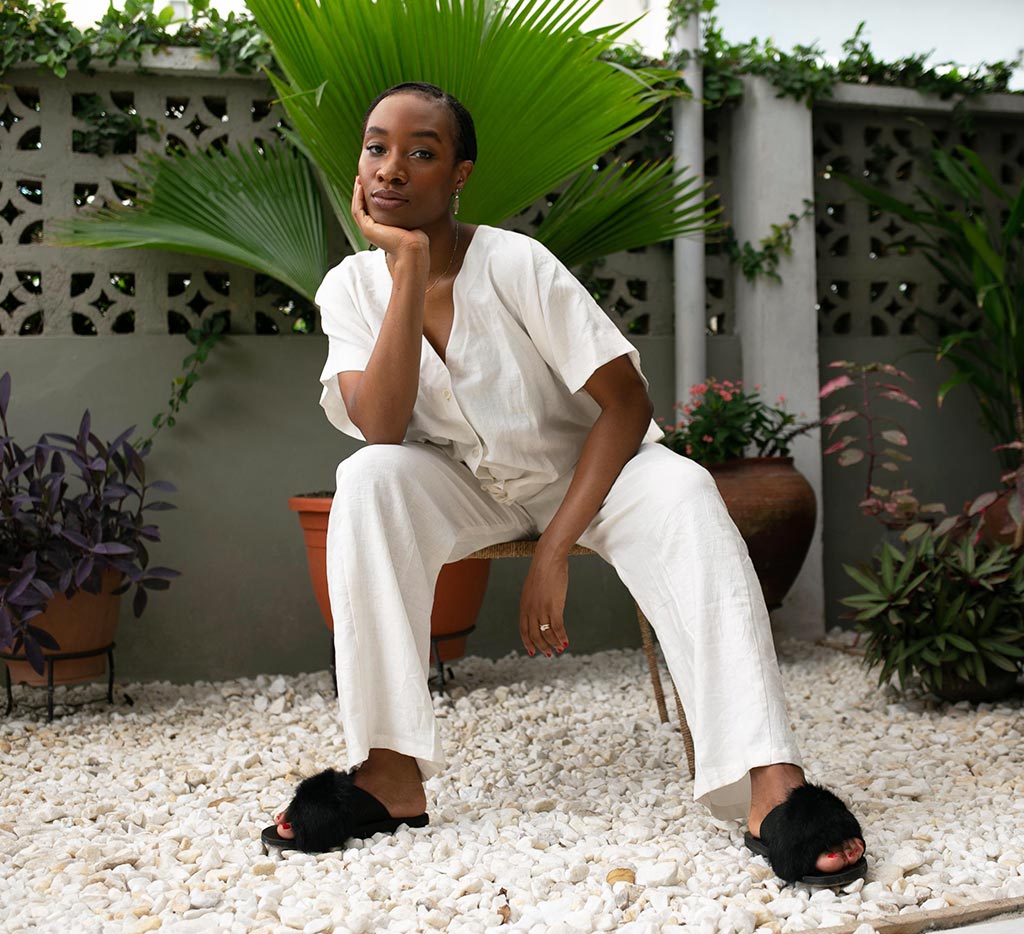 Karimah Ashadu-Schmidt is a British-born Nigerian artist living and working between Hamburg and Lagos. Having trained as an Interior Designer in London, Karimah honed her craft at various leading Interior Design and Branding studios in London before venturing independently as an artist.
Keen to create a space for people seeking unique homeware pieces with heritage, she founded. Pieces of the Cloud in 2013 and began offering her designs and collections from the West African region. Passionate about fine fragrance for the longest time, in 2018 Karimah travelled to the Côte d'Azur in the South of France to train with a master Candle Chandler and POTC turned its focus to fine fragrance. Then followed three years of perfecting formulas and POTC Hamburg was born. Pieces of the Cloud is a meditation on gustation, nature, unique places and art.
Travelling the world and living in cities like London, Lagos, Amsterdam and Paris, Karimah finally settled in Hamburg in 2018. Inspired by the city's Hanseatic charm, spirited history, inherent sense of luxury and fine culture, POTC found its home – so much so that the brand evolved to "POTC Hamburg". The desire to reflect this inspiration is how our artisanal fragrances came to light.
POTC's aesthetic is elegant and pared-down with a sense of eclecticism owing to Karimah's multicultural heritage. Connecting with you through the emotivity of fragrance is so special. Thank you for being part of our journey.